Training Resources and Internship Networks (TRAIN) Program
2022
The Training Resources and Internship Networks (TRAIN) grant program was launched to address the need of long-term unemployed adults seeking workforce readiness training and industry relevant skills to support their reengagement in the workforce.
TRAIN leverages partnerships between Massachusetts Community Colleges, the Labor and Workforce Development system (MassHire Regional Workforce Investment Boards and Career Centers), and other agencies of state government, to align an array of available "wrap-around" support resources.
A collaboration between Custom Group Center for Manufacturing Technology (CMT), Lowell Career Center (LCC), and Middlesex Community College will provide an experiential learning opportunity in Advanced Manufacturing for 10 individuals as enrollees in a training program consisting of academic coursework and hands-on manufacturing technology skill development. The Greater Lowell Workforce Board's Northeast Labor Market Blueprint, Advanced Manufacturing ranks in the top three industries that are the most important to the region's economic success.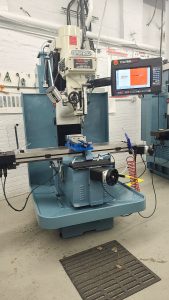 Courses Available: